Well, I may not have blogged much, but I did complete the readathon. It took me a couple of hours extra to finish my 3rd book, but I started late and spent a lot of time not reading so I don't mind.
Apart from sleeping, playing The Simpsons Tapped Out, going in the bath and doing a bit of planning, I managed to complete The Ember in the Ashes by Sabaa Tahir.
Oh My God! It was amazing! I wasn't sure if the hype would be justified but I thoroughly enjoyed it! It reminded me of a more Roman-esque version of Black City by Elizabeth Richards. 
This book definitely measured up to the hype!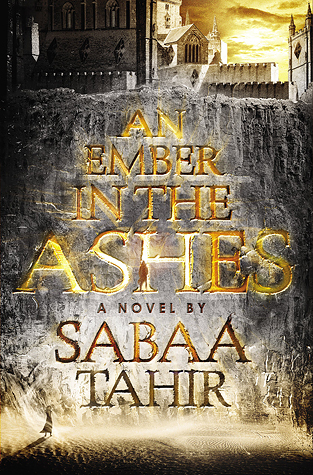 It is a thrilling dystopian fantasy adventure with some brilliant characters and a world that enthralls.
Our protagonists are Laia and Elias.
Laia is a Scholar, a race of people conquered by the Martials and subject to raids and slavery. She is orphaned and her grandparents and brother are all she has, until the night a raid changes all that. Now she must find a way to save her only family – the rebels of the Resistance her only hope.
Elias is a Martial. More than that, he is about to graduate as a Mask – one of the elite soldiers of the Empire. He wants his freedom. He wants to escape – but the enactment of a prophecy ruins his plans, and now he is fighting for the ultimate power – a chance to be Emperor…
The pace is quick, but not confusing, and characters are given time to shine and develop. The narrative switches between points of view and both voices are clear, strong and unique.
The setting feels quite Roman Empire-esque, and is a refreshing change from the numerous sci-fi based dystopian YA novels out there.
The romance is more earthy, more lusty, and not overpowering. It tempts the reader, but does not distract from the story.
I hear that this was picked up for one book only, but there just has to be a sequel. It deserves one and is one of the best YA books I have read this year.
I was delayed in my reading by some Kindle issues, and made a start on The Guest Cat while I was waiting to fix my kindle, so my post-readathon plans (apart from lesson planning!) will be to finish off that book.
The End of Event Meme
Which hour was most daunting for you?
The last one, I guess, since I was so far away from finishing my 3rd book that I knew I wasn't going to make my target of 3 books by the end.
Could you list a few high-interest books that you think could keep a Reader engaged for next year?
I would absolutely recommend The Ember in the Ashes! And a book I feel is similar, Black City. I have yet to read its sequels, but as the world building was so fantastic, I bet they don't disappoint.
And I am always one to recommend The Lunar Chronicles series by Marissa Meyer!
Do you have any suggestions for how to improve the Read-a-thon next year?
As usual, it runs smoothly and does not disappoint!
What do you think worked really well in this year's Read-a-thon?
I found the cheerleaders to be fantastic and the social media presence inspiring.
How many books did you read?
3.
2 and 3/4 officially within the 24 hours though.
What were the names of the books you read?

Brown Girl Dreaming by Jacqueline Woodson
Hobson's Choice by Harold Brighouse
An Ember in the Ashes by Sabaa Tahir.

Which book did you enjoy most?
As much as I enjoyed all of the books I read, An Ember in the Ashes has to be my favourite. It happens to be the one I most looked forward too as well!
Which did you enjoy least?
I guess in terms of liking it least, Hobson's Choice would win that, but even so, I did like and enjoy it. I think maybe it is just because it was a play that I prefered the other two.
If you were a Cheerleader, do you have any advice for next year's Cheerleaders?
N/A
But thank you to everyone who cheered me on and visited my blog!
How likely are you to participate in the Read-a-thon again? What role would you be likely to take next time?
Absolutely! Bring on October! I'd participate and depending on fiances, may donate books again. I enjoyed that last time. Especially the book challenge things.